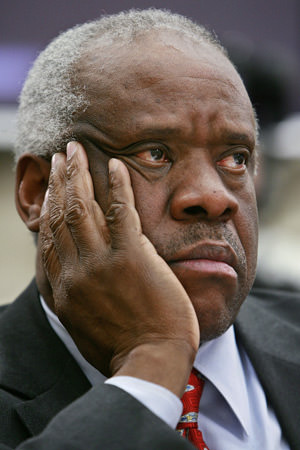 Justice Clarence Thomas got bad news yesterday from Jefferson Parish, Louisiana. His nephew, Derek Thomas, had an epileptic seizure after hospital staff used a taser on him. From ABC 26 News:
According to a statement from the family, Derek Thomas, who is epileptic, refused to put on a hospital gown and tried to leave his examination after a possible suicide attempt. They say security "punched him in his lip, pulled out more than a fistful of his dredlocks and tasered him to restrain him."

Doctors knew about Thomas' epilepsy, but ordered security officers to use the taser anyway, instead of sedating him, the family says.
Ouch.
Clarence Thomas is allegedly outraged and plans to fly down to New Orleans to check on his nephew, according to ABC 26 News. And because this facility sounds a wee bit unpleasant, the family is trying to have Derek Thomas transferred somewhere else.
At least this is happening after the term has ended. He can deal with this crisis more easily with the Court in recess, just as Justice Ginsburg has the summer to grieve for her husband.
Video report from Jefferson Parish, after the jump.
Family Says Nephew of Justice Clarence Thomas Was Beaten, Tased at West Jeff Hospital [ABC 26 via Gawker]